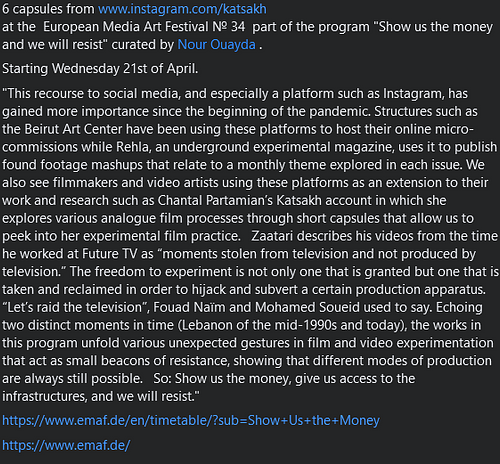 European Media Art Festival № 34 - 21/04 -02/05 - Osnabrueck - Germany
Artist and curator Nour Ouayda (Beirut) presents a series on the history and present of video art in Lebanon. In Show Us the Money and We Will Resist, she traces the role that the resources and networks of Lebanese television played in the development of video art in the 1990s, and what new media infrastructures have taken their place to enable both artistic experimentation and intervention in society.
International Short Film Festival Oberhausen 2021
Under the title "Prophecies from the Sea", the curators are showing a programme "about the prophetic nature of cinematic works created in moments of transition". This includes both recent films that deal directly with the catastrophic explosion in Beirut a year ago, its causes and consequences, and older works that focus on earlier historical upheavals in Lebanon and its conflict-ridden history. Films by Chantal Partamian, Ali Cherri, the Atlas Group and Ghassan Salhab, among others, will be screened.
Quantum Superposition and States
11:07 am Montreal / 6:07 pm Beirut - 11h07 Montréal / 18h07 Beyrouth
Duration / Durée: 7 seconds
35mm
Scanned with a digital microscope setup - Numérisé avec une configuration de microscope numérique
2592x1944
29.97 fps / 29,97 ips
Silent / Silencieux
As part of a series of experiments on celluloid, this capsule was made to mark the exact time of the catastrophe and its echo throughout continents and time differences.
Dans le cadre d'une série d'expériences sur celluloïdpellicule, cette capsule a été réalisée pour marquer l'heure exacte de la catastrophe du 4 Aout et son écho à travers les continents et les décalages horaires.